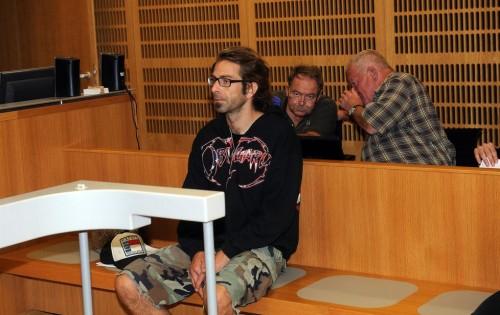 Many people are acting on the case of

RANDY BLYTHE

through social networks.

We bring musicians comments about it ...




On the website of our fellow Blabbermouth can read the comments that many musicians have made ​​on Twitter about the charges against
Randy Blythe
, vocalist for
LAMB OF GOD
, arrested Wednesday in Prague (Czech Republic) accused of alleged murder.
David Draiman (Disturbed):
"My thoughts are with my friend Randy Blythe @ lambvox? # freerandyblythe"
Alex Skolnick (TESTAMENT):
"All my support to my friend Randy from LAMB OF GOD. I hope you are well and this is resolved soon."
Gregoletto Paulo
(TRIVIUM):
"I hope the Randy situation can be resolved quickly and without being re-arrested. A shitty news to start the day!"
Dez Fafara (DEVILDRIVER):
"My prayers and thoughts will be for Randy when I go to bed tonight ... Path to Full Force Germany? # HesAGoodMan?? # SendPositiveThoughts "
Jeff Kendrick (DEVILDRIVER):
"Randy Blythe has to be released soon. Please treat him in vuesgtros thoughts."
Oderus Urungus (GWAR) :
"All my strength and our guys Randy Lamb of God. They are our blood and we support them. This case smells like shit."
Mark Hunter (CHIMAIRA):
"Best wishes to Randy and the team of LOG."
Mike Portnoy (MOB ADRENALINE, DREAM THEATER):
"My thoughts are with my brother Randy LOG ... I was with him just a few days ago ... # FreeRandyBlythe"
Cristina Scabbia (LACUNA COIL):
"I do not for one second that my Randy Blythe brother did anything to anyone, especially apropósito. One of the coolest people I know. # FreeRandyBlythe I love you, brother. I'm sorry for that kid but know it was not your fault "
Sebastian Bach:
"Randy, I hope you are well . I've been sober the whole tour. The first tour of my life sober. You are an inspiration. Thanks for your help @ downloadfest # FreeRandyBlythe "
Brian Posehn: "News crazy about Randy Blythe of LAMB OF GOD. These guys are really good guys . Estero everything is put in place soon. "
Rob Caggiano (ANTHRAX):
WTF?
The LAMB OF GOD frontman Randy Blythe arrested on charges of homicide. "
Slash
"# freerandyblythe
article taken from www.metalzone.biz
Share